Hello Friends!
Do you ever have a project that comes together out of nowhere? This was definitely one of those!
I was looking for a new, easy start late one night last week and picked up this old Lizzie Kate pattern I had in my stash that looked like it'd fit the bill. I had absolutely no plans for how I wanted it finished, or what I wanted to do to it, and just planned to figure it out after it was stitched up.
When I started poking around in my finishing stash, I noticed I had this house-shaped wall hanging. It was grey, but the perfect size to fit the piece, so I chalk-painted it with a dark brown to pick up the color of the roof, and then scrubbed it with some sandpaper to make it look old and worn. I wanted to add backing fabric but it just wasn't big enough so I opted for a chunky trim to edge the sides and added a bow and floral center. It hangs from a twine cord and is actually really cute. I'm happy with how it turned out!
Pattern: "Home is Where We Share"
Designer: Lizzie Kate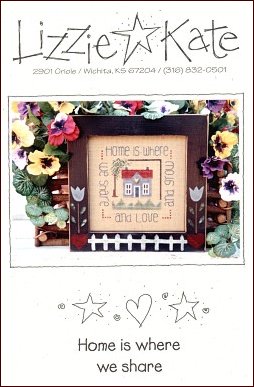 Fabric: 28 ct Tea-dyed Evenweave Monaco
Colors Used: DMC 930, 931, 814, 3011, 3012, 3021, White