Hello Friends!
It's done! It's finally,
finally
done!
This has been a year-long process -- not that it took that long to stitch of course -- but the plan of action for my Halloween Rules started in October 2017. I knew exactly how I wanted to finish mine the second I got the pattern(s), however, I had no idea finding a flat, perfectly sized tombstone would be so incredibly hard. Believe me when I tell you I went EVERYWHERE, including all crafty stores, all Halloween stores, home decor stores, you name it, to find this **** tombstone. In fact, I had almost given up hope completely when one just popped up at Joann's a few weeks after I started my search. I have not seen it since, so I consider myself extremely lucky for finding it when I did. AND IT EVEN HAS BUILT-IN LIGHTS!!!
By the time I found the tombstone it was almost Halloween and clearly not enough time for me to stitch this up and get all of my other stitching done. So it's sat, lonely, in my art studio until I was able to piece it all together today.
I stitched all charts of Halloween Rules except for the last pattern (two charts) at the bottom. The tombstone wasn't long enough to include them, and seeing as though I wasn't super enthusiastic about those two charts anyway, so I don't really mind that they're missing. The stitched piece is mounted to some homespun and edged with black twist cord. The hardest part -- at least for me because I tend to be
very
OCD with this stuff -- was getting the arc at the top just right. I tried multiple things before just eyeballing it --- but I swear to you the process took years off my life.
I found this super cute felt pom pom Halloween garland at Home Goods so I kind of draped that around the back and sides, and then I made a Halloween ribbon bow for the top and bottom. I found the glittery bats at the Dollar Tree and since they have a metal clip on the back, I was able to glue teeny, tiny magnets onto the tombstone to stick them on. I may change them if something cuter pops up.
The strange thing is that Spike is very attached to the tombstone. I don't know if it's the size of it or what, but he is constantly sitting next to it. Just to take these photos I had to physically move him multiple times. I know all dog owners will tell you their dogs do weird things but --- kinda odd, right?
Pattern: Halloween Rules
Designer: Lizzie Kate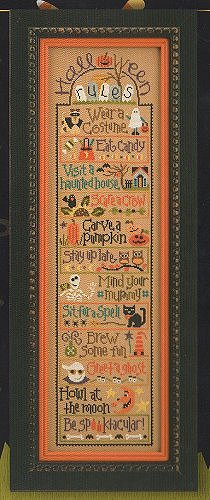 Fabric: 28 ct tea dyed evenweave
Colors: DMC charted except for purple *changed to 3834*
Thanks for stopping by!